Start-Up Services was, when it was founded 1983, one of the first professional companies regarding relocation service. However, more than 30 years later the industry of relocation management underwent an enormous extension. Partly to offer a base for exchange and in part to validate a set of high quality characteristics, an organization called  European Relocation Association (EuRA) was formed.

EuRA gathers 490 different relocation service providers in almost 100 countries all over the world. Founded in 1998, the main objectives remain still the same: on the one hand to promote the advantages for globally operating companies by cooperating with relocation services. And on the other hand to raise the quality standards in the relocation service industry.
Mission and Vision of the European Relocation Association
The relocation and transition of an employee, including leaving the comfort zone and getting to know a new culture is a new phase in his or her life. This change should be managed professionally, in order to offer the company an unstressed employee and to guarantee the best start with a big amount of inside knowledge for the client.
EuRA as a networking platform
Beside the provision of support and advice for relocation service professionals and new start-ups, the  European Relocation Association  creates the opportunity for exchange between the individual relocation services. Conferences allocated by EuRA provide a basis for connecting, networking and exchange of experience and industry information on a high quality dimension. Furthermore EuRA establishes a framework, within which the Relocation Service sector can grow constantly.
Quality Seal
In addition to assistance to several relocation services, EuRA accredits highest quality service of member companies through the EuRA Quality Seal (EQS). As a quality standard system the EQS investigates the particular Relocation Service Members.
The uniform set of qualities was partly developed from balancing the knowledge of nationally based relocation services and global relocation management for years and getting validated externally.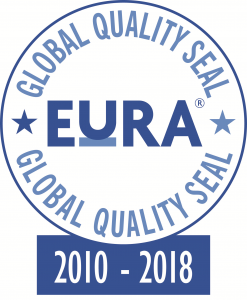 Start-Up Services as Part of EuRA
Start-Up Services is proud to be a member of this association. Beside participating and networking at conferences, our relocation service has complied successfully the EuRA Quality Seal since 2010. Thus we try to secure the highest satisfaction of our clients.