One of the anticipated events in Tyrol, Austria is to watch the Hahnenkamm ski race in Kitzbühel. It takes place every year in January. This year celebrates the 80th anniversary of the race.
The ski run starts at 1,665 meters altitude and is 3,312 meters long. With a downhill grade of roughly 50 %, it is the second steepest start within the ski world cup circuit.
One of the most dangerous and steepest ski runs in sport history is the famous and well-known "Streif". Participants need to overcome an 85% decline and need to clear a jump up to 60 meters wide. The highest speed of 153 km/h was achieved by Austrian skier Michael Walchhofer in 2006.
The winner of the ski run 2020 was Matthias Mayer (Austria) with a time of 1:55:59. With two-tenth difference Vincent Kriechmayr (Austria) and Beat Feuz (Switzerland) were the second-place finishers. Therefore, the third place at the award ceremony remained empty (see picture below). Due to the fact that two Austrians won the ski run, Austria was in a festive state afterwards and all of Austria was celebrating big time! We will have to wait and see if next year will be as sensational as this year. You definitely need to mark your calendar for 2021 today! Next year the race will take place from January 19 – to January 24.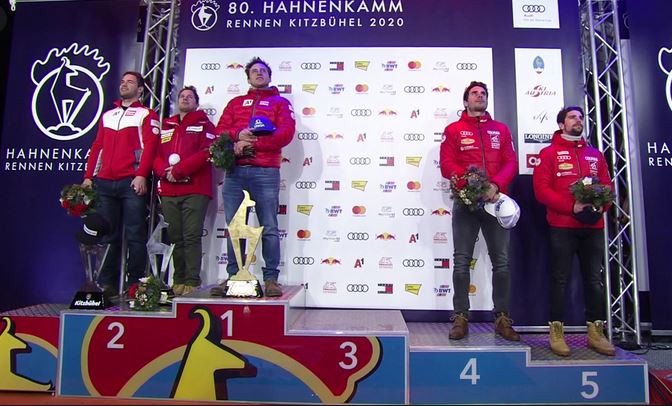 During the Hahnenkamm ski race, all temporary accommodations and holiday flats in Tyrol are sold out early, as thousands of visitors come to Austria for this event.
If you decide to go to the event, I would highly suggest to book accommodation months prior to the Hahnenkamm race.
You can reach Kitzbühel via train or car. If you are driving by car, you also need to know that in almost every region in Austria you will need to have a "vignette" placed in the windshield of your car. A vignette is a form of flat toll imposed on vehicles, instead of road tolls that are based on distance travelled. You can buy the Vignettte at certain gas stations. Since 15 December 2019 there are some exceptions where you do not need a vignette in Austria. This affects the following motorway sections:
A1 West motorway (border crossing Walserberg to Salzburg-North), Salzburg area
A12 Inntal motorway (border crossing Kiefersfelden to Kufstein-South), Tyrol
A14 (border crossing Hörbranz to Hohenems), Vorarlberg
Title Image: Michael Fleischhacker