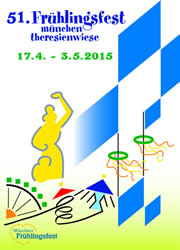 This weekend marks the start of the "smaller brother" of Munich's worldwide known Oktoberfest, the "Frühlingsfest" (Spring festival) on the Theresienwiese, also known as the "Small Wiesn".
Starting this Saturday, April 18th 2015, for two weeks the colorful fun fair attracts the young and old with many attractions like roller-coasters, carousels, haunted houses, bumper cars and many more as well as some tents offering typical Bavarian food and beer. The spring festival is a typical bavarian fun fair or "Volksfest" as they are common also in many other cities all over Bavaria.
You can find more details and a programm of events here (in German): http://www.fruehlingsfest-theresienwiese.de
Another highlight linked to the spring fair is the yearly flea market at the opening day of the Frühlingsfest. On Saturday, 18. April 2015 from 7.00 am until around 4.00 pm Bavarias biggest flea market attracts around 20.000 visitors. Real treasure hunters already strive through the stands the night before to maybe find a unique piece before anyone else does.
More information: http://www.fruehlingsfest-theresienwiese.de/programm_riesenflohmarkt.htm