Upcoming Saturday, July 9th, the most beautiful streets of Munich's city center will be allocated to bikers only. As a project to make the city greener, the Bike Night Munich, the so called "Münchner Radlnacht", is an amazing event for everyone to enjoy a ride on their bicycle through the city center without being disturbed by cars or traffic lights. The starting point of the 12 km roundtrip is Königsplatz at 8:30 pm. A beach area, different food huts, live music and a free bike wash will open at Königsplatz around 5 pm. Therefore, it is definitely worth to be there earlier.
Take your bike and be part of it!
After eating and chilling around the Königsplatz area, bikers meet at 8:15 pm. The bike night Munich tour leads them via Stiglmeierplatz, Nymphenburger Straße to Hackerbrücke. After that it goes along Theresienwiese, Kapuzinerstraße to the Isar until Prinzregentenstraße. The highlight of the round trip is biking through Altstadtringtunnel before heading back to Königsplatz along Ludwigsstraße. Even though 12 kilometers sounds very far, the bike night is no race, so everyone can bike on one's own pace. After arriving at Königsplatz everyone is invited to take part in a picnic there.
For people who are not attending the Bike Night, please be informed that there will be delays in traffic and public transport (bus / tram) on Saturday between 8:00 and 22:30 pm.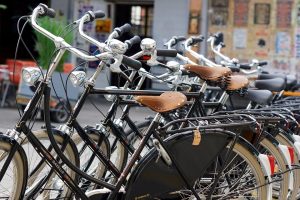 Around 10.000 bikers are expected to take part in the event
The Bike Night serves as an opening event for the so-called "Stadtradeln" (City Biking), which is a campaign to encourage Munich's citizens rather to go by bike than by car. The promotion will run for three weeks from July 9th until July 29th to collect as many kilometers by bike as possible. To register and for more information about the campaign, visit: www.stadtradeln.de