Museums are very creative to attract interest by young visitors. Transfering knowledge to children usually is not just reading information, but more of an interactive process. Therefore, there are a lot of Muesums around Munich, that focus on Children with their exhibitions. More and more Museums have specialized programs or seperate rooms for our smaller citizens, where they usually can not only get visual education but often are allowed to touch and play with the items as well. Deutsches Museum and Hellabrunn Zoo are planning some big projects especially for children for the following years.
New Kid's Kingdom in Deutsches Museum
Last weekend,  a new area specialized for children was inaugurated in the "Deutsches Museum" in the City Center of Munich. Actually, the 600m² plot is just a temporary solution until the old children's area is renovated and the new Kid's Kingdom will be accomplished in 2019.
Children only get access in company with an adult, but in return adults are not allowed to enter without being accompanied by a child. The little ones are encouraged to play and try things with their own hands to find their own way into the world of technical and physical science. Even if the children sometimes do not really know what they are playing with, it does not matter. They should just explore things and be guided by their own curiosity while having fun.
Mühlendorf at Zoo Hellabrunn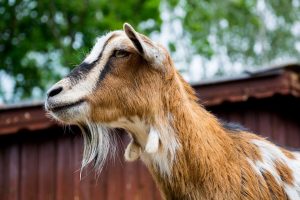 Also Tierpark Hellabrunn Zoo works on a new project called Mühlendorf. The Mühlendorf will be arranged as a set of old farm houses and is designed to be home for endangered, local animals. The goal is to give children and adults an understanding of how our ancestors used to live in line with mother nature and how humans nowadays gear into and humiliate the natural flow. A main part of the village will be the Zoo School which offers over 350 workshops annually. Due to the short distance to the goat stable, there will be the possibility for visitors to actually learn by interacting with the animals, or even mucking out the stable. The Mühlendorf  is planned to open in 2019. Until then, the Wildpark in Poing offers a good alternative to explore local animals in their natural surroundings.
Other Museums with spezialized programs for children:
The "Pinakothek der Moderne" launched a seperate room for children to promote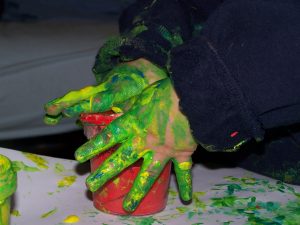 their creativity. It is a room with yellow walls and stools printed with letters on them. The room can be individually arranged for any use. In the mornings the room is usually occupied by schools and under the slogan "Kids can do Art" the room is open to the public one day per month on the weekends.
Families from the Westend know, that the traffic center is a good opportunity to spend a rainy day with their children. Hall 3 offers a huge indoor playground, where the little ones can draw or build their own vehicles. The exhibitions of old police cars or helicopters usually fascinates the small visitors. Additionally, there are some specialised tours for children and currently there is a program for school classes, called Juniorcampus, in cooperation with BMW going on.
In the Lenbachhaus there is a cozy studio and a garden which is used for mediation of art. It is not open to public individually, but there is a huge offer of workshops and tours to experience modern art. The range of the Kid's Program reaches from tours for school classes to workshops during the summer holidays for individuals. Starting in June, every last Sunday of the month children and their families are welcome to discuss the question: "What would the Lenbachhaus be without all the gold?"
Besides the discussion, there are some guided tours and, in the end, visitors can try to visualize their impression with different techniques in an artistic way.
In the Human and Nature Museum in Nymphenburg Castle, they devoted a whole area especially to their young visitors. It is called "Spielerische Naturkunde", which means Hands-On Natural History. Children should learn about nature by interactive elements. The 2500m² area offers a broad variety of interesting facts about natural history to discover. From astronomical science, like a model of the solar system, the development of human nature and specialist fields of knowledge, like brain science, every kind of interest about nature science will be met. Every Friday at 3:30 pm they offer guided tours for families with different topics, which is a nice way to start the weekend with your family.