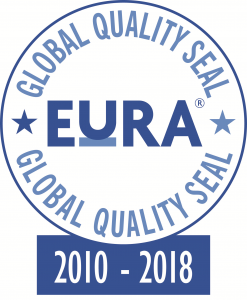 Since 2010, Start-Up Services is holding the EuRA Global Quality Seal and has been recertified on February 26th, 2016 for another two-year cycle. We are currently investing in the high quality of our relocation services and process to secure the best results for our clients and their employees.
The European Relocation Association (EuRA) certifies qualified relocation service providers based on an ISO 9001 process management model and helps to reassure the corporate client of the value of professionally managed domestic and international mobility programmes.
EuRA Global Quality Seal – Re-certified relocation service quality until 2018
To better understand our motivation and commitment to qualify for the EuRA Global Quality Seal becomes clear in our vision of strategy:
"Start-Up Services GmbH is, and has been since its inception in 1983, determined to be known as a superior service provider for immigration and relocation management. We offer the best possible services, striving to make location changes smooth and hassle-free for the employee and on target, efficient and effective for the Human Resources department. …
We at Start-Up Services GmbH are interested in long-term relationships with our corporate clients and want to ensure a sustainable business model and continued financial success. … Offering state of the art service modules that reflect latest or even take into consideration anticipated developments in the assignment management is a key objective.
We strive to contribute significantly to setting and maintaining high professional standards for the relocation sector. …
We offer a truly customer and quality focused service: independent, trustworthy and reliable. We always act in a socially and ethically responsible manner.
The whole Start-Up Services Team is committed to this mission, which is reflected in our business principles and practices.
The Start-Up Services GmbH Mission Statement: Prompt – Proactive – Truly Committed. Since 1983."
Start-Up Services obtained again the externally audited Seal of excellence
As below certificate of the EuRA Global Quality Seal shows, we have undergone an external audit process including amongst others the assessment of extensive documentation, internal trainings and an onsite visit.
As a result the permanently updated Quality Manual is our "Bible" to keep the highest level of service delivery. The 50 pages thick Quality Manual is a mandatory read for all current and new employees.