Construction works are running on full speed at the Theresienwiese since there are only 4 days left until the 183rd Münchner Oktoberfest starts.
From September 17th to October 3rd visitors from all over the world are welcomed to enjoy a stroll through the festival, roller coaster rides, a wide variety of traditional Bavarian foods and of course some of Munich's best beer.
If you want to catch the official opening ceremonies of Oktoberfest 2016, Schottenhamel tent is the place to be. At 12 p.m. the Mayor of Munich will have the honor of tapping the first keg of Oktoberfest beer.
And don't miss the spectacle of the traditional costume parade on September 18th. Starting at Maximilianstrasse at 10 a.m., about 9500 members march through the city and present various traditional dresses, habits and dancing formations, accompanied by bands and flag bearers.
More than 6 million visitors expected to Oktoberfest 2016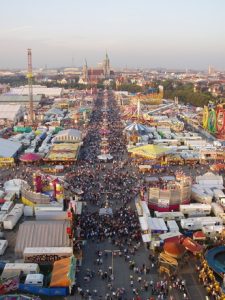 There are 14 big and 21 small tents at the Oktoberfest. On weekends, they open at 9.00 a.m., on weekdays at 10.00 a.m. You can celebrate until 11:00 p.m., but make sure to get your final beer before the last round at 10.30 p.m.
This year one liter beer (1 Maß) costs 10,50 Euro in average. The entrance to all tents is free, but is limited once the tents are overcrowded. So if you plan to come in a large group a reservation is recommended. Nevertheless you can always try your luck. As a rule: the earlier you come the better!
Are you staying in Munich with your family? Then it is advisable to visit Oktoberfest on a Tuesday. Those are family friendly days, which means: reduced prices for all rides and performances in the afternoons!
Attention! New safety measures at the festival
The safety concept for the Oktoberfest 2016 was completely reevaluated in order to make the festival as safe as possible. For the first time ever Theresienwiese will be a closed-off area surrounded by a fence. In addition, there will be corresponding checks at all entrances and backpacks as well as heavy bags are forbidden.
Please note that the area around Theresienwiese and Hauptbahnhof (Central Station) will be more crowded and busier than usual. You can expect a lot of police presence and occasional traffic controls.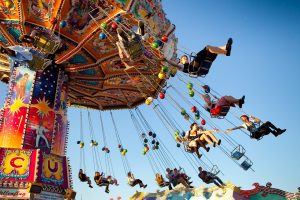 "Oktoberfest-Boss" and second Mayor of Munich, Josef Schmid, encourages the visitors not be put off by this safety measures:
"[…] I hope, that the people are coming. It would be wrong to back down and stop to celebrate. […] It is also about the elements of our freedom." (cited from Interview with tz, 31.08.16)
"An agricultural extravaganza"
When you are already at Theresienwiese you can also drop by the Bavarian Central Agricultural Festival, which is located right next to Oktoberfest. For 9 days visitors can discover and experience the latest trends in the fields of agriculture, forestry and food. The great entertainment program and more than 800 animals promise enjoyment not only for the young visitors.