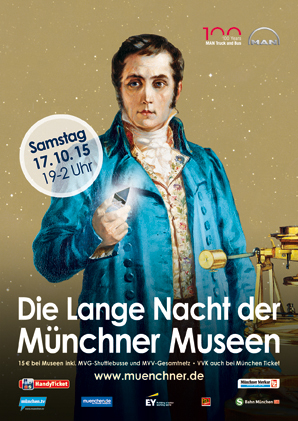 This Saturday, October 17, 2015, is your chance to discover many many museums and cultural spots in Munich, during one magical evening until 2 am in the morning.
All places, museums, galleries, churches and collections, open their doors for an eventful night and offer special programs, music or workshops to celebrate the "Long Night of Museums in Munich", or Die lange Nacht der Münchner Museen.
Included in the ticket price of €15 per Person is also a combo ticket for all Munich public transport and the circle bus line, only dedicated to bring all visitors from one museum to the next through the starry night.
Also bring your kids! The children's programm starts already at 2pm in the afternoon and 4 children under 14 are free per 1 adult ticket.
Non- German speakers can also visit Musuems night team on Saturday starting from 12 noon at the Odeonsplatz. There, you will find an information tent .
For details please visit the English Info page of the "Münchner Museumsnacht":
http://www.muenchner.de/museumsnacht/english/info/